Recognising the Signs of a Bad Lender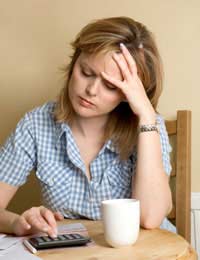 When it comes to disreputable or unfair business practices the credit industry seems to have its fair share of bad lenders. Staying clear of bad lenders will help to avoid financial headaches and harassment that can cause years of misery for customers.
Bad Lenders in the Credit Industry
As with any industry there will be good and bad businesses and the credit industry is no different. Bad lenders are in business to make as much money as possible regardless of the consequences to the customer. Many bad lenders operate under the law, and the government does state that high interest lenders provide a service to those who need it. But bad lenders can bend and often break lending regulations and the rules set out in the Consumer Credit Act. The lending regulators will often tell bad lenders who have been reported to clean up their act but will still allow them to continue trading.
High Interest Lenders and Repeat Business
High interest lenders will provide credit at exorbitant rates with the intention of obtaining repeat business from the customer. High interest lenders are not illegal and providing credit with huge interest rates is a common business practice. High interest lenders are a growing market even though the government has cracked down on the credit industry's lending practices. In fact, high interest lenders such as pawnshops and 'no credit check' lenders are one of the fastest growing markets in the UK. But these lenders can leave customers in debt for years and often lead to customers to insolvency debt solutions as the only way of escaping their debts.
Why Customers Should Avoid High Interest Lenders
High interest lenders work on the 'circle of debt' principle. They will supply credit, usually short term credit, with no credit checks and very lax lending requirements. Short term credit is usually for periods of around a month, typified by the payday loans lenders. This is designed to help make ends meet for those who cannot obtain credit through traditional lenders such as banks and credit card companies. Instead, many customers fail to repay in full at the end of the month and lenders will top up their debt with another loan to continue the cycle.
Lenders Who Value Profits Over Customers
The attitude of the lender towards the customer can be one of the biggest signs of a bad lender. If a lender does not seem concerned over how much existing debt a customer has then this should ring a warning bell. Lenders who are unconcerned about whether or not customers can actually afford to take on more debt should be avoided. These lenders are interested in sales not the problems more debt will cause to customer. This type of lender will simply sell on bad customer debts to a credit collection agency or will simply get the customer deeper into debt with additional loans.
Bad Lenders and Internet References
One of the easiest ways to check out a lender is through the modern day internet word of mouth references. Customers who have had trouble with lenders tend to get very disgruntled and have no problem making other people aware of it. There are plenty of financial internet forums where customers of bad lenders have left references for others to read and comment on. Checking up on these sites can save a lot of trouble and money in the long run. Internet forums are also a great way to check on companies that do continually harass customers over late and missed payments.
Bad Lenders and Signs to Look Out For
Bad lenders will never advertise themselves as such but there are some signs that may help to identify them. These signs will include:
Extremely easy to obtain credit with no credit checks or concern for the customer's present debt levels
Bad lenders will often use advertising with exaggerated claims such as, 'the lowest interest rates available'
Bad lenders will use harassment methods if a customer is a few days late with repayments
Bad lenders will use high pressure sales techniques and encourage customers to take on more debt than they can afford
Disreputable lenders will try to dissuade customers from fully reading credit contract terms and conditions before signing
Limited time offers on interest rates are one of the tricks of a bad lender to harass customers into signing agreements
Exorbitant late and missed repayments fees are one of the common trademarks of a bad lender
Customers should not endure harassment or unfair business practices from disreputable lenders. The Office of Fair Trading and the Consumer Credit Act have regulations that lenders do need to abide by. If any lender does apply harassment methods to a customer they should be reported to the credit regulators.
You might also like...