The Right Time to use High Interest Loans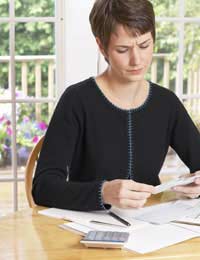 Although many people will think that there is never a right time to use high interest loans they can be useful in certain situations. Knowing the right way to utilise high interest loans can help to rebuild a bad credit rating, but there are requirements that must be met.
What are High Interest Loans?
High interest loans are loans that have a very high annual percentage rate (APR). The APR can be double or even three times the amount of interest that normal loans will have. In some cases high interest loans will be extortionate; these are usually provided through door step lenders and should be avoided if possible.
High interest loans are usually aimed at borrowers with bad credit records. As these borrowers cannot obtain credit elsewhere, the lenders know that they rack up the interest rate. High interest loans should be avoided but for people with a bad credit record they are sometimes the only option available.
Utilising High Interest Loans
Ironically, there are times when high interest loans can actually help a person with a bad credit. If the borrower has no other option but to take out a high interest loan then it can help rebuild their credit record. This will only work if the repayment schedule is met, no payments are late, and no payments are missed.
Emergency Use
The right time to use high interest loans may also be if there is some form of emergency and funds are needed quickly. High interest loans can be secured or unsecured and they can be provided very quickly, especially if they are secured loans. Borrowers should really only use high interest loans as a short term loan option. High interest long term loans will not be a debt solution, and may only lead to more serious debt problems.
High Interest Loan Providers
There are many different high interest loan providers on the market. Lenders will not always advertise the high interest rates as they will want to entice borrowers with claims of low APR. If borrowers have a bad credit record then that is when the lenders will bring out the high interest rate option. Lenders of high interest loans will include:
Banks and building societies.
High street lenders.
Internet only lenders.
Doorstep lenders.
Fastcash lenders.
Payday loans.
Supermarket loans.
Fees and Charges
Sticking to the repayments on a high interest loan is vital to stop fees and charges being applied. If you miss or are late with a payment then there will not only be a fee, you will be charged on the missed interest. These interest charges can soon mount up and borrowers can often find that accumulated charges are actually more than the monthly payment.
Repaying High Interest Loans
If you are using a high interest loan as a short term solution then it may be worth while repaying the loan early. However, there may be early repayment charges and this can be as much as two times the normal monthly interest payment. Always weigh up whether it is worthwhile paying this early payment charge or sticking to the full repayment schedule.
Store Cards
Store cards are another form of high interest loan. They are in fact one of the highest forms of high interest loans on the market. Again, they can be useful when trying to rebuild a bad credit rating. By rigidly sticking to the repayment schedule borrowers will see a marked improvement in their credit references in a short space of time. Borrowers can even avoid the high interest by paying off the balance each month before the interest kicks in.
Borrowers will need to make up their own minds as to when will be the right time to use high interest loans. In certain situations this type of loan can be useful especially if used as a short term option. Borrowers should always try to avoid missed or late payments as the interest can accumulate, adding a lot more to the actual loan.
You might also like...