The Latest Loan Fraud Scams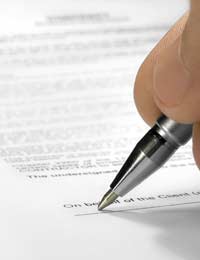 New loan fraud scams are being reported in the media on a regular basis. The latest loan fraud scams can appear to be quite legitimate but the end result can be a severely depleted bank account.
Types of Loan Fraud Scams
The list of loan fraud scams on the market does seem endless. Scam artists and conmen are continually thinking up new ways to part customers from their cash. Many of these loan scams will be targeted at customers who do have debt problems. Scammers know that people who are heavily in debt are more likely to fall for promises of easy ways to eliminate debt burdens. People in debt will also overlook glaring scams signs in the hope that these legitimate looking companies can help them.
The Reason for the Increase in Loan Fraud Scams
The internet is one of the main reasons for the recent increase in loan fraud scams. People are often duped into sending financial and personal information and cash to companies that look legitimate. The internet has also made contacting thousands of people a much easier act for scam artists. Britain also has a huge debt problem and many people are falling for debt scam promises as a way to eliminate their problems. In many cases the loan debt fraud scams can be avoided by simply using some common sense.
One of the Latest Loan Fraud Scams
An increasingly common loan fraud scam will begin as an offer from a seemingly legitimate loan company. The loan company will offer reasonable interest rates and will usually have special offers for people with bad credit records. These loan offers can come through the post or via a professional looking email. The main aim of this loan scam is to obtain as much financial and personal information from the customer as possible. Customer information is then used to steal the customer's identity and empty their bank accounts.
Advance Payment Loan Fraud Scams
Advance payment loan fraud scams are not new but scammers are finding new ways to apply this scam. Advance payment scams can involve the scammers requesting a payment fee in order for the customer to be approved for a loan. The scammers will inform the customer that their loan will be approved whether or not they have a bad credit record. Once the fee has been paid the scammer will simply disappear with the customer's cash and will not reply to emails. Western Union or Money Grams are typical payment methods for this type of scam.
Add-On Loan Fraud Scams
Add-on scams are extensions to existing scams designed to bring in more money from people who have already been duped. The advance payment loan scam can come with a scam extension that can cost the unwitting victim more money. Once scam victims realise that they are receiving nothing for their advance loan payments they will try to contact the company through a supplied telephone number. This telephone number will be a premium rate number with an answering message. The more times the customer calls, the more times the scammers will make money through the premium rate numbers.
Arrangement Fee Loan Scams
Many legitimate banks and lenders will apply arrangement fees when they have set up loans for customers. These fees can also be called administration fees. But these fees are also used by scammers to simply collect money with no intention of arranging any loans. Customers should never pay advance fees or arrangement fees until the loans have been set in place. To be on the safe side, customers should never apply for loans that come through unsolicited emails or letters.
Customers who are applying for loans should always be wary of companies that charge upfront arrangement fees or advance fees. Even legitimate high interest companies should not charge upfront fees to arrange a loan. There are plenty of lenders on the market that will not apply any fees until a loan has definitely been arranged. Any customer who does pay a scam upfront arrangement fee or advance payment will find it very hard to recover this money. If in doubt simply apply to well known high street or internet only lenders that can be found using loan comparison websites.
You might also like...
Applying for loans online got a phone call from one called cash4u, I was told I need to pay upfront fees of £175 as first months payment and I waited I got a call again from them saying I needed to pay £200 for ppi and my loan would be put in my bank I waited for 1hour and no money had been into my account this company gives you an address of 102 petty france london sw1 h 9aj it is not a loan building it belongs to the ministry of justice they took me for a total amount of £575.00 did not find this out until it was to late to stop the payments to them DO NOT USE THIS COMPANY YOU WILL NOT GET ANY MONEY BACK OR YOU LOAN PAID OUT TO YOU SCAM.
mart
- 19-Sep-11 @ 9:46 AM
How do you find a loan company let alone a loan that is not out to con you , i applyied for a loan last year ( 2010 )with a company called NO WORRIES LOANS LTD, cwmbran wales,They text me saying that i had a loan and to phone to complete the application which i did,I was then asked to pay £79.99 up front fee,which like an idiot i payed,and guess what yes i never heard from them again,you try to contact them and your put through to a proberbly none existant office were you wait and wait,remembering this is a premium rate call,Do your yourself a favour and try to get buy without lending,if you cant DONT pay up front fee,s
LES
- 7-Jul-11 @ 12:33 PM