Your Borrowing Questions Answered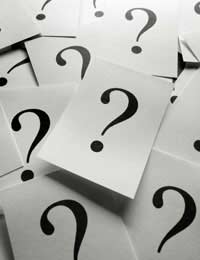 Are you worried about how to repay your debts, or looking for advice on taking out further borrowing? Here are some answers to important questions relating to loans and borrowing.
Q. I regularly shop at two or three different department stores, and each time the shop attendant suggests I take out a store card. If I sign up to the store card I can receive a discount on my purchase. Is it worth signing up to take advantage of the special offer?
A. Store credit might seem like a convenient way to pay, and most large retailers now offer their customers a percentage off their shopping if they sign up for their store card. However, take a good look at what the store is actually offering before you think about signing up.
The interest rate on store cards can be anything from 15.9% to 29.9%. Far more than most credit cards. So, the discount designed to entice you will be repaid many times over in high interest charges.
Also, bear in mind that if you rack up £1,000 on a store card with a high interest rate (easy to do if you go on a spending spree) and you only repay the minimum amount each month, you could be paying that money back for the next 15 years.
Shop assistants are usually paid a commission on each new customer they sign up, which is why they have been so persistent at the till. If you are persuaded to sign on to a store card, make sure that you pay any outstanding balance before the interest-free period expires and do yourself a favour, cut the card up.
Q. I recently inherited £25,000 after my father passed away. I currently have a standard rate (6.9%) 100% flexible mortgage on a property worth £220,000, but I also have credit cards and personal debts of £16,000. The interest rates on these are 9.9% and 12.9%. Should I pay off my personal debts first, or try to pay down some of my mortgage? I could lose my home if I don't keep up my mortgage payments, so shouldn't I reduce this first?
A. You should start by paying off your personal debts first. Conventional wisdom may dictate that you should pay off any debt secured on your home, but in this case you should think about paying off your debts with the highest rate of interest first.
It always makes more sense to pay off short-term debts if you can, whereas your mortgage is a long-term commitment
Once these debts are paid off, you could use the money you normally set aside to pay these bills towards paying off your mortgage early. You would be surprised how paying an extra £250 a month off your mortgage could reduce the number of years left on your mortgage.
Q. We moved house two months ago (we are renting) and have just had an application for a personal loan rejected. Is it possible that our new address has been credit blacklisted, and what can we do about it?
A. Firstly, don't worry, credit reference agencies don't blacklist addresses, although they used to. Now, instead of blacklisting a particular address, they follow the credit history of individuals, linking them to the address indirectly.
This means that you were refused credit for a different reason. You can find out by ordering a copy of your credit report (it costs £2 to purchase a copy from the two main credit agencies Experian and Equifax).
The likelihood is that you were declined because you are not on the electoral register at your new address. If you haven't already done so, you should contact your local council to inform them of your new residence. It may take a while for them to update their records, so you should keep track of your credit report.
It can take up to six months before your details are updated, but once you have been added to the electoral register, it would be worth making another credit application.
You might also like...