Loans by Text: Pros and Cons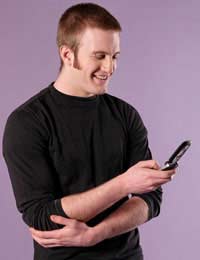 With iphone applications now including a loan by text facility it has never been easier to apply for a loan. But there are some pros and cons when it comes to this latest loan application service.
How Loans by Text Work
There are number of different payday loan companies offering the loan by text facility. The basic principle is the same; fill out an online registration form and wait for a decision. If the borrower is approved then they can simply text the loan company requesting a loan and the amount they need. Loans are then placed in the customer's bank account. Simple, quick, and easy, providing the customer meets the eligibility requirements and does not mind the high annual percentage rates.
Eligibility Requirements of a Text Loans
As with any lending service there will be eligibility requirements before the borrower is approved. Eligibility requirements will differ between companies but permanent UK resident status will be a requirement. Borrowers will also be required to have a valid debit card attached to a UK bank account. Other requirements include no problems with previous payments for a set period of time such as 18 months and employed at time of application. Credit checks may not be as strict with text loans but the annual percentage rates (APR) will usually be higher than traditional lenders.
The Downsides to a Loan by Text
The interest rates included with these loans have come under much criticism. These loans are designed for small amounts over a short term period, but not all customers pay back the loans within the loan agreement period. Customers who borrow £100 for a week will usually pay pack £110 at the end of the week. One day later and the repayment will have risen to £125, and by day 30 day this will have risen to £200. Estimates show that around 10% of loan by text borrowers do not pay back their lenders before charges are applied.
Consequences of Defaulting on a Loan by Text
As with all lenders there will be consequences for borrowers who do not pay back their loans on time. Customers who do not pay back their text loans by day 45 will be blacklisted and not permitted to borrow again. If the loan is not repaid within three months then the debt collectors and bailiffs will be called in. Although the loan by text application is the simplest way to obtain a loan the consequences for non payment are severe.
Loans by Text and Responsible Lending
Obtaining a loan by text does sound easy but the lenders claim they do use stringent eligibility requirements. This may be good for eliminating the likely high risk customers, but it does beg the question over who is using this service. The text loan companies claim that their customers are all employed and earning over £25,000 per year. They also claim that the service is frequently required to help stop people incurring charges on other existing loans. This could mean that text loan companies are lending to customers who are already having trouble managing their finances.
First Time Borrowers to Loans by Text
Although many of these companies do boast responsible lending requirements they have been raising their borrowing amounts. One company has doubled the amount that first time customers can borrow. They have also increased their borrowing limits for existent customers from £750 to £1000. It's a telling fact that similar payday loan companies in America who were operating the loans by text facility have been banned in some states.
The Advantages of Loans by Text
Given the high interest rates there may not seem very many advantages to the loan by text service. But if these loans are used for short term borrowing and paid back on time then they may be a viable option. If they are used to stop charges occurring on other loans or credit agreements they may have their uses. Loans by text and payday loans make no financial sense as a long term borrowing option. The problem is that many borrowers becoming hooked into using this service on a frequent basis.
Payday loans have been on the market for a number of years but loans by text are a recent financial facility. In terms of ease of use they are perhaps one of the most accessible loan applications on the market. But the high interest rates are a major downside to these loans, and mismanaging them could lead to serious debt problems.
You might also like...