The Right Personal Loan for You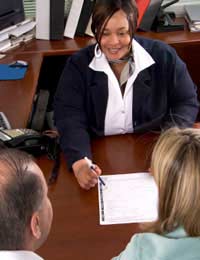 Personal loans are available from a wide range of financial lenders including online stores, supermarkets, and the more traditional banks and building societies. In today's competitive market finding the right personal loan for you may not be as simple as a trip to your own bank branch.
Why Shop Around?
With the advent of online shopping, consumers have never had such a diversity of choice when it comes to financial borrowing. The wealth of information, advice, and offers available for online personal loans can, at times, be bewildering. Online financial comparison sites will be useful in order to compare a huge variety of lenders that offer personal loans.
Internet comparison sites are a great way to find the right personal loan for you, and they will have the most recent personal loan offers available. The information is continually updated with regards to annual percentage rates, and the variety of options available within the loans. The comparison sites should also list any incentives available, and details of the penalties that can be applied. By shopping around online you may be able to find better deals that with the usual high street lenders.
What is a Personal Loan?
A personal loan is an unsecured loan of up to £25,000 repayable over a certain length of time. As the loans are unsecured the repayment amounts may be slightly higher than secured loans; the lender is taking a greater risk with unsecured lending. When a customer applies for a personal loan the repayments and the interest will be calculated after checking the customer's credit rating. Checking a credit rating helps the lender assess whether or not the customer is a good risk. A good credit risk can usually mean good favourable rates of interest for the customer.
Large Loans, Small Interest Rates
The amount of loan will of course be dependant on the purpose of the loan. But the amount of money you borrow will also have an influence on the interest rate you are given. Personal loans can be taken out over a varying number of years anything from around six months to around seven or ten years. The more money that you borrow the lower the interest rate will usually be, and this interest rate should not change at anytime over the course of the loan.
If you are paying a large amount of personal debts on a variety of credit cards, it may be worthwhile to calculate the interest costs of consolidating your debts into one manageable loan. The repayments will stay the same, you will save on interest, you will know exactly when the loan ends, and you could save on multiple late or missed penalty charges. But remember, although a large loan may mean smaller interest fees, the length of loan time may mean that you are paying more interest overall.
Loan Options
Personal loans now have a variety of options available to the customer within the actual loan contract. It is entirely up to the customer whether or not they use these options. Loan options can include payment holidays, top ups to personal loans, and the option of using a flexible loan at a fixed rate with no extra charges. Customers should discuss the full range of options with their chosen lender. Always keep an eye out for any special promotions that may be available from lenders throughout the year.
High Interest Rates
Always try to avoid high interest rate loans even if you think you can handle the repayments. The lending market is very competitive, and high interest rates should really only apply to customers who have a poor credit rating, or otherwise look like a high risk to lenders. One or two missed payments on this type of personal loan can see penalty fees mounting up and more bad notices on a credit rating.
Early Repayment Fees
If you feel you may be able to repay your loan early then make sure that you find a loan that does not have early repayment fees. Early repayment fees can be as much as two months interest, so always check if there are no early repayment fee options available with the loan of your choice.
The right personal loan for you will depend on your budget and how long you want to be tied down to a loan. Do not be in a rush to take the first loan you see; interest rates change and special promotions are usually available throughout the year. Above all make sure that you do not miss or are late with payments, this will harm future borrowing and add to the cost of the loan in charges.
You might also like...