Credit Union Loans and How They Work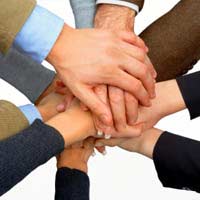 Credit unions are often referred to as the people's bank, this is because they are set up and run by a common group of people. They can be work colleagues or people who live in the same area. The main aim with credit unions is to supply affordable financial options, such as loans, with terms that other lenders would not usually consider.
How Credit Union Loans Work
Credit unions are formed by a group of like minded people that pool all of their savings into one fund. With credit unions the members save as little or as much as they want, and the profits from this pool go towards helping to keep interest rates low on loans and other lending options. One of the main differences with a credit union is that they will offer repayment lengths that would not normally be considered viable by other lenders such as banks.
Credit Union Dividends
With a credit union loan the borrower can apply for a very small amount, for example £200, and then pay it back over a much longer term than other lenders would consider. Credit unions pay out a bonus to their members every year; this is usually a percentage of how much they have saved. The members of credit unions also receive free life insurance.
Credit Unions and Poor Credit Reports
One of the reasons that credit unions came into being was to help people with bad credit reports. Credit union loans are available to members with a bad credit report as the member is paying money into the common fund. Not only will credit unions offer loans to members with poor credit records they will also offer a wide range of financial services such as savings accounts, and some will even offer mortgages.
In many cases credit union loans have helped people to avoid using loan sharks. Borrowers who cannot receive loans elsewhere due to bad credit can apply to credit unions instead of using the last option of a loan shark. Using a credit union and sticking to the repayments will also help rebuild a poor credit file.
Advantages of Credit Union Loans
There are some distinct advantages to being a member of a credit union, and to taking out a credit union loans. Interest rates are very competitive; in a lot of cases they will charge no more than 1% per month in interest. Borrowers can apply for very small amounts, in some cases as little as £50. Credit union loans do not usually come with arrangement fees or early repayment fees. Some credit unions are open to non members and they are regulated by the government.
Credit unions are audited every year and they are also insured against theft and fraud. If the credit union does fail all of the saver's money is covered and they will receive 100% of it back up to the amount of £35,000.
Lenders with a Friendly Face
Many people do not like dealing with banks and find credit unions to be more personal and friendly. Often borrowers personally know the people that run the union and do not feel intimidated asking for financial help through a credit union. Many borrowers that use credit union loans and savings say they would not return to a "normal" bank. At present there are nearly 500,000 members of credit unions in Britain, and this number is growing every year.
Credit union loans are an excellent option for people with poor and healthy credit records alike. When banks are prone to times of rising interest rates the credit unions seem to stay healthy due to their common pool of funds. If a borrower is considering a loan then it may be worth checking out the interest rates given by a local credit union.
You might also like...