Mortgage Loans for First Time Buyers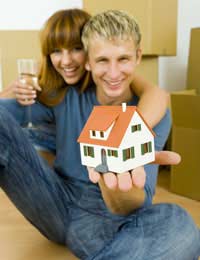 Buying a home is one of the most important decisions a person can make, and can also be one of the most stressful. Certain types of mortgage loans for first time buyers are now not as readily available as they once were, but there are a number of mortgages available, each with their own benefits and disadvantages.
What is a Mortgage Loan?
Mortgages are simply loans to buy property, and although the customer is named as the owner the property does not fully become theirs until the mortgage has been paid. Making that leap onto the property ladder can be a challenge and it does seem to be getting harder to find lenders that are willing to give 100% mortgages.
There are still some lenders that are willing to supply 100% mortgages, meaning you will not need a deposit, but they are becoming very few and far between. Many first time buyers now have to look at various other ways of getting on the slippery bottom rung of the property ladder.
Types of Mortgage Loans for First Time Buyers
There are a number of alternative mortgage solutions available to the first time buyer. These alternatives will include:
100% Mortgages
Although 100% mortgages used to be very popular, rising house prices have seen their popularity dwindling with lenders. A 100% mortgage loan means that no deposit is needed whatsoever but the interest rates will usually be higher with this type of mortgage. There will also be higher lending charges to be paid; this can usually be added to the actual mortgage. Always look for fixed or capped interest rates that will help protect the borrower if interest rates rise.
Deposit Mortgages
Most lenders will now ask for an amount of cash as a deposit, and this is often the hardest thing for a first time buyer to achieve. If buyers do put down a deposit, and the larger the better, they can obtain very good interest rates and the repayments on the mortgage will be lower.
But there are actually two different deposits needed during the sales process. One deposit to the seller of about 10% of the sales price will be needed when contracts are exchanges. Another deposit will be made up of the deposit you have agreed to pay the lender minus the deposit to the seller.
Help From Family
It is now becoming more and more common for parents to help with their children's mortgage deposit. The difficulty with jumping onto the property ladder means that parents are very sympathetic towards the current housing situation; and if they can afford to help they usually will. In some cases this deposit can be a gift, but for many this deposit will usually be repaid once enough money has been saved. Buying a home is always more of an investment than throwing money away on rent.
The Actual Mortgage Loan
There are various types of mortgages available, and each will have their own benefits and disadvantages. One thing that is common throughout will be the well known clause regarding repayments and repossession. Whatever type of mortgage you choose you must stick to the repayments as this is still the lender's money until you have paid the mortgage in full. The basic rule with mortgages is that you can usually borrow around three and a half times your annual income or double the income if a couple is borrowing.
Common mortgage loans for first time buyers will include repayment and interest only mortgages. Repayment mortgages are where the borrower repays part of the capital and the interest each month. Interest only mortgages mean that you are only repaying back the interest with every payment. Ideally, the best option would be the repayment mortgage, and although repayments will be higher than interest only payments, you are guaranteed to own the property once all repayments have been made.
Fees and Charges
Along with the actual mortgage loan there will be a whole host of fees and charges. These can include mortgage arrangement fees, insurance policies, property valuation fees, higher lending charges, and solicitor's fees. Add this to the actual deposits needed and it easy to see why it is no easy task to become a first time buyer in the current financial climate.
Anyone who is considering applying for a mortgage loan should shop around and find the very best deal they can. This is a loan that can last for decades and it is vital that you take the best advice and get the best rates that you can. Always take the time to have every issue clarified if there is anything that you do not understand, and always have a solicitor deal with all of the legal issues of buying a property.
You might also like...