Debt Consolidation Do's and Don'ts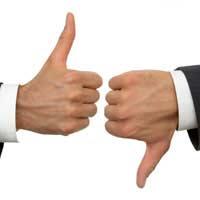 For many people with credit cards, personal loans and overdrafts, the idea of consolidating all their debts into one single monthly repayment seems like the ideal way to solve their money problems and get them on the fast track to being debt free.
However recent surveys have demonstrated that debt consolidation may not be the simple solution it seems. In fact, six out of ten people who take out a debt consolidation loan go on to accumulate more debt. How then can you make sure that debt consolidation will work for you? Here is a brief list of debt consolidation do's and don'ts.
Debt Consolidation Do's
Do
think long and hard about the repayment term your debt consolidation will tie you in to. Many consolidation loans reduce your monthly outgoings by stretching your repayments over a longer period.
So, whereas before you might have a personal with monthly repayments over five years, a debt consolidation loan might mean you repaying debt over a 15 or 20 year period. A lower interest rate spread over a longer time period will ultimately end up costing you more.
Do try to find a flexible loan agreement that will allow you to make overpayments or repay your debt early if you can.
Do make sure that you take out a fixed rate loan. Interest rates are at record lows at present, which means that they'll be going back up at some point in the future. Getting a fixed rate now will ensure you avoid any interest rate surprises further down the line.
Do avoid taking out a payment protection insurance PPI policy, unless you feel that the policy is value for money, and that you feel far more comfortable with. However, be mindful that if you have been given an indication of the possibility of redundancy before you take out the PPI, your policy may not pay out.
Do create your own budget after you take out a loan, so that you can manage your debts efficiently. Debt consolidation can work, but only if you can draw a line under your borrowing and live within your means.
Debt Consolidation Don'ts
Don't
borrow more than you need. Remember that you are not wiping out your debts, you are taking more debt on. The more you borrow now, the more you will have to repay further down the line.
Don't keep your credit cards once you've taken out a debt consolidation loan. This is the classic mistake made by most people, and could make your debt problems spiral out of control. Credit card companies will notice when you have paid off your balance and try to tempt you back with special offers or a raised spending limit. Make sure that you don't run up fresh debts while you are still paying off your consolidation loan.
Don't put your home at risk by taking out a loan secured on your home. The lender can legally sell your house to get its money back if you can't repay.
Don't take on an unrealistic debt repayment schedule, or let your problems reach a crisis point. It's easy to make a mistake when you feel under pressure and that you've run out of options. But acting in haste could leave you saddled with a long term loan that only makes your debt problems worse.
Before you take out a debt consolidation loan, talk to a debt adviser (free of charge) and they will help determine the best repayment solution for you.
Don't repeat the same spending mistakes. Is there anything about your habits you need to change? Now that you have consolidated your debts, think about changing your spending to make sure that you can get yourself debt-free.
You might also like...