Managing Your Loans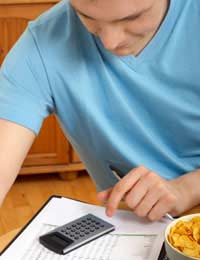 In today's debt driven society it is not uncommon for people to have multiple loans and credit cards. For some, these loans are handled responsibly but for others they can be a financial nightmare. Managing your loans means making repayments on time every month, and steering clear of the dreaded spiraling bank charges.
Problems that Can Occur
Difficulties with multiple loans can occur from time to time for even the most responsible borrower. It's not hard for an oversight in a budget to occur and for a payment to be missed, and a subsequent charge to be applied. If this is a one off occurrence then the lender will usually refund the charge as a gesture of goodwill. However if this problem is continually occurring, lender's will apply charges to accounts and will keep applying them until money is placed in the account.
Charges and fees applied for late or missed payments can easily spiral out of control. If funds are not placed into the account to cover the missed payments then charges and interest fees can rise rapidly. Not only that but details of missed or late fees can be given to credit reference agencies and this will affect any future borrowing.
Managing Multiple Loans
If you do have multiple loans then a direct debit option is vital to stop missed payments and charges. If you are paid monthly then the best option is usually to have all payments fall a few days after your salary is placed in your account. This way you will know exactly how much is coming from your account on the same date every month. It's also an easier way to keep an eye on bank statements and look out for errors.
If you are paid weekly then spreading out the loan repayments may be the better option. By doing this you will not have a huge chunk of you weekly wage taken in loan repayments. It is vital that you keep an eye on your spending if you do have multiple loans. Try paying with cash instead of using a debit card, this way you will know exactly how much you are spending. The nightmare scenario of multiple missed payment fees has often left some people paying more in fees each month than the actual loan amount.
Eliminating Interest
The ideal scenario would of course be one where no loans or credit cards are needed, but for many people this is not an option. If you are taking out multiple loans then you should consider borrowing enough for your original loan purpose and enough to consolidate any other loans. By doing this you can cut the interest you are paying on other loans, and simply pay one loan every month. Multiple loans mean more interest fees and more charges if payments are late or missed.
Managing Loans and Credit Reference Agencies
One problem that can occur with multiple loans if they are not repaid on time is that details will be sent to credit agencies. Missed or late payments will be detailed on these reports and used by lenders in the future to determine your credit status. Having multiple loans also means that it could look as if you have over committed yourself, and this is also something that lenders will not look upon favourably.
Go for the Lowest Interest Loan Deal
If you are considering any type of loan or credit deal then always shop around. Managing your loans starts before you actually apply for them. By shopping around on the internet and in the high street you may be able to find lower rates of interest than that offered by your usual lender. If you have a good credit record then lenders can be competitive with their interest rates in order to attract your custom. Consolidating your present loans at a lower rate of interest from a new lender will cut your interest rate and can save you large amounts of money.
Devising a financial budget may help you keep an eye on loans and help to avoid missed payments. Managing your loans can take discipline and can sometimes mean avoiding those impulse purchases. Always try to avoid high interest loans if you can, and above all, avoid missed payments and the severe bank penalties that go with them.
You might also like...