Take Our Loans and Borrowing Questionnaire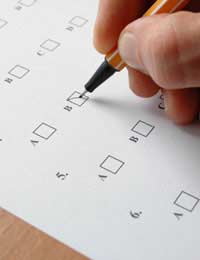 Just how much debt is too much? Take our loans and borrowing questionnaire and, by answering a few simple questions, you can find out whether your debts are a cause for concern.
1. Would you say your debts are already giving you problems?
(a) No, I think I borrow wisely and keep on top of my finances
(b) I am starting to get concerned that my debts are too high
(c) Yes, I have so much debt I am unsure how to repay it
2. How much debt do you currently owe on credit cards, personal loans and other borrowing, excluding your mortgage?
(a) Less than £5,000
(b) Between £5,000 and £15,000
(c) More than £15,000
3. Do you pay off your credit card balances in full each month?
(a) Always pay my outstanding balance in full
(b) Usually pay an amount more than the 2% minimum payment
(c) Never, I can only afford to make the minimum repayments
4. What is the average maximum spending limit on your credit cards?
(a) A credit limit up to £2,000
(b) A credit limit of between £2,000 and £4,500
(c) A credit limit of more than £4,500
5. How much are you paying each month on you're debt repayments, including interest?
(a) Less than £300 a month
(b) Between £300 and £500 a month
(c) More than £500 a month
6. After paying off all your monthly commitments and debt, do you have any money left over at the end of each month?
(a) Yes, I have enough money to put aside regular savings
(b) I usually have a small amount of money left over
(c) No, I frequently have to use my credit cards to pay for food and regular items
7. Have you missed a mortgage, loan or credit card repayment in the last two years?
(a) Never missed a payment
(b) I've often borrowed more money to meet other repayments
(c) I have missed one or two repayments
8. Have you ever tried to use a consolidation loan to sort out your debt problems? If so, did it help?
(a) No, I don't think I need a consolidation loan
(b) Yes, I took out a consolidation loan and it was helpful in reducing my debts
(c) I have previously taken out a consolidation loan but I still have heavy debts, and the loan itself to repay
9. Have you set up most of your borrowing agreements (credit cards, store cards, loans, mortgage) in the last 12 months?
(a) My borrowing agreements are more than five years old
(b) My credit agreements are between three and five years old
(c) Most of my debts are relatively new, less than one year old
10. Have you ever been refused credit? If so, how recently?
(a) No, never been refused credit
(b) Yes, but not recently
(c) Yes, I have been refused credit in the last few months
How Did You Answer?
Mostly (a)
Judging from your answers, you do not appear to have too much of a problem with managing your debts. Your borrowings are not too heavy and you tend to make your repayments on time. However, have you considered what might happen if you found yourself unable to work and couldn't meet your repayments? You should think about setting aside some 'rainy day' money (usually three months' worth of salary is a good sum) and also consider taking out some form of insurance that would protect your income if you could no longer rely on your salary.
Mostly (b)
You might feel that you have your borrowing under control, but you should be careful. Your answers indicate that you are concerned that your debts are increasing, and you are finding that your monthly repayments are becoming more of a struggle than before. You might have taken out a consolidation loan before, but you still have debts, which demonstrates that you use borrowing as a way of life. Think about ways to reduce your debt and try to pay it off for good, without giving into the temptation of racking up further debts in the future.
Mostly (c)
You are right to be concerned about your borrowings. You have high debt levels and your monthly repayments are taking up an ever higher proportion of your income. If most of your credit agreements are relatively new, that's a worrying sign that you are juggling your debts, without really paying any off. If you are starting to miss your repayments you could be facing a county court judgement, bailiffs or even home repossession.
If you would like advice on how to manager your debts, you should contact the Citizens Advice Bureau or the National Debtline for confidential, impartial advice. They can help you to create a repayment schedule that can help you take control over your finances again.
You might also like...