Finding Low Interest Rates for Home Owners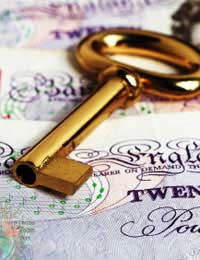 Home owners do have more options available when looking for loans. Not only do they have property that can be used as security they may also be able to request larger loan amounts if the equity on their mortgage is high enough. Finding low interest rates for home owners should not be too much of a problem providing the home owner also have a good credit record.
Secured Loans
Secured loans are loans that are granted with the condition that the borrower gives some form of security, usually their home. Secured loans are generally easier to obtain than unsecured loans as there is less of a risk to the lender. The amount loaned can be as much as £100,000, but there are lenders that will supply more, and in some cases the lender will be able to borrow around 125% of the value of the borrower's property. However, there are a few factors that will determine the amount of loan and the interest rates offered.
Interest Rate Factors
The annual percentage rate (APR) is the amount of interest that you will pay back on the loan. Each lender will have set criteria regarding the APR and how much they will charge. Factors that influence this decision will include:
Equity available on the home.
Condition of the borrower's credit history.
Value of the home.
Length of the required loan.
Personal circumstances.
Employment details.
Finding Loans
Finding low interest rates for homeowners should not be a difficult task. Lenders will always be in the mood to do business if the conditions are right. Lenders can be found simply by walking down any high street. However, finding the best interest rate available should be a priority, and a wise borrower should not choose the first loan offered.
Always use comparison websites that will give the most recent interest rates dependant on the information you give. Always use more than one comparison site to make sure you receive accurate information. Some comparison sites have been known to give bias information on certain companies.
Your Home is at Risk
One thing to keep in mind regarding homeowner loans is that you are placing your home at risk by using it as security. By using your home as security you are giving the lender extra safeguards but there is no such safeguard for yourself. If repayments are not met your home could ultimately be repossessed; this is unlikely to happen if the loan is unsecured.
If the secured loan is to be a long term one it may be wise to invest in payment protection insurance (PPI). Although you may be confident about making repayments, circumstances can change over the years. Although PPI will add on a great deal over the course of the loan it may give peace of mind in case of sickness, redundancy or unemployment.
Long Term Loans, Low Interest Rates
Although the interest rates should be lower with a long term, secured loan, it does not mean the overall repayment will work out cheaper. Long loan terms will mean that you will pay more in interest even though the interest rate and loan repayments are lower. Long term loans also mean just that; you will be paying the loan for many years. Consideration should always be taken before committing to any long term loan as you will be saddled with this debt for a long time unless you expect to make an early repayment.
Finding low interest rates for homeowners should not take too much research time. The internet offers the most advanced tools for comparing different loan companies and finding the best deals. But borrowers should always keep in mind that there home is at risk, and if they are unsure about sticking to repayments then other loan options should be looked into.
You might also like...