Loans for Retired People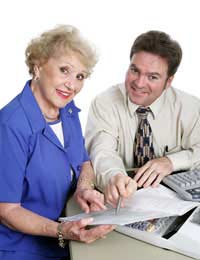 If you are retired there may be some obstacles to receiving a loan with favourable interest rates. Banks and other lenders have in the past been reluctant to provide loans for retired people. However, with equity available on properties, lenders are starting to see retired people as safer credit risks.
Retirement Income and Loans
Retirement usually means the end to a working life, but not always. Many retired people will still work part time and still bring in a regular wage. Retired people will also have financial incomings such as pensions and investments. A lender's main criteria when offering loans will be how much income the person has and any security that can be used.
Lenders have become aware of the fact that retired people now have more disposable income than was available to previous generations. Wise investments, larger pensions and home equity will all count towards a lender's decision to grant a loan. Credit ratings and present debts will be taken into consideration, but if there is enough money to cover loan repayments then there should not be too much of a problem receiving a loan.
Retirement Loans and Age
Age and health matters will also be a factor in whether a lender will be willing to supply a loan. Many retired people over a certain age may find that lenders are not willing to give loans unless some security is given. It may also be the case that lenders will not give loans unless they are short term and with higher interest rates.
There are a few loan companies that are designed specifically with retired people in mind, and these can be easily found on the internet. But always make interest rates the first check point. Using comparison websites will give a good indication of normal interest rates. If a good relationship has been built up with a bank over a number of years then they may be able to help with short term lending at good interest rates. Never take the first loan offered, always shop around.
Loan Repayment Periods
For retired people the shorter the loan period the more chance there is of being offered a loan. Shorter loan periods may mean higher interest rates but there should still be the opportunity to apply for zero or very low interest loans. If applying for a zero interest loan then the applicant should remember that one missed payment will mean interest is applied for the full loan term.
Equity Loans
Loans for retired people may include using equity from the home to borrow money. There are a number of benefits and disadvantages to equity loans. Repayments will be low and a lump sum can be obtained, but with certain equity loans you may not have anything to leave dependants. With equity loans the home will be used as collateral and can be sold if repayments are not met.
The Loan Application
Loan applications for retired people will ask for various forms of proof of income. These will include details of pensions and investments, details of equity on the home, and information on present debts and financial outgoings. Some lenders have been known to supply loans using only pension books as proof but there will be higher rates of interest applied.
There may also be higher rates of insurance applied to the loans. It is not compulsory to take out payment protection insurance with loans, but they are a good idea in case of illness. Never take out payment protection with the lender supplying the loan. Always use independent insurers, they will be able to give much better rates and will be less expensive in the long run.
Advertising and Retirement Loans
Daytime television is full of advertisements aimed at loans for retired people. Anyone considering applying for this type of loan, usually equity loans, should be wary. Nine times out of ten they will require some form of security and interest rates will be very high. Always take good financial advice if a home is to be used as security for any loan.
All lenders are different and each will have their own guidelines as to who they will and will not lend to. A retired person that has a sufficient level of income and good level of equity on their home should be able to find loans with favourable interest rates. Always thoroughly read any loan contracts before signing, and always clarify any terms that are unclear before signing.
You might also like...