Should You Consider the Bank of Mum and Dad?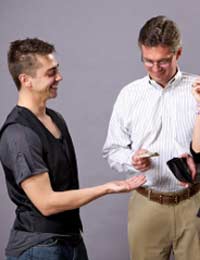 With lenders tightening their borrowing requirements the bank of mum and dad has become and increasingly popular borrowing option for grown children. Parents are usually willing to financially help their children but certain issues have led the bank of mum of dad to pull down the shutters.
The Rise in Children Borrowing from Parents
A number of financial issues have left grown children with only one borrowing option, the bank of mum and dad. With house prices continually rising it has become increasingly difficult for first time buyers to jump onto the property ladder. Parents who are financially able will usually be willing to help grown children with deposits on property, this is a good investment. Parents will often also help offspring with university fees or perhaps simply a loan to buy that first car. In some cases, parents are also the only option grown children have when their debts become unmanageable.
The Advantages when Borrowing from Parents
One of the biggest advantages of borrowing from parents is the fact that it can be an interest free loan. It will also mean no credit checks and previous credit history will not make a difference to lending. Some parents such as retired couples will provide funds to their grown children and not expect repayment. Having mum and dad as a lender can also mean relaxed payment holidays and lengthy repayment terms. Many parents are more than willing to provide loans rather than have their children pay exorbitant interest rates to lenders.
Zero Interest Rates or a Credit Agreement with Parents?
Borrowing from the bank of mum and dad isn't uncommon and many parents will not expect any interest fees on their lending. But some parents, especially retired couples, have had to resort to raising money through their property if their children do need a loan. This will mean that the retirees are being charged interest if they have applied for equity loans or second mortgages. If this is the case then it is only fair that loans from parents are set out to recoup this additional expense. Some grown children will of course not accept a loan from parents unless the option to add interest fees is available.
Parents Who Are Unable to Financially Help their Children
It's not every parent who can financially help out their grown children. A huge number of retirees in the UK live on very little income and simply cannot afford to provide loans for cash strapped children. In fact many retired people in the UK are now turning the tables, and one in 10 grown children are helping with parents finances during their retirement. Some parents however will not give funds simply because they believe grown children need to stand on their own and face their financial difficulties. The bank of mum and dad will not be open forever, and this is often a lesson children need to realise when it comes to borrowing money.
Divorce Leading to Decreased Lending from Parents
Divorce in the UK has had a major impact when it comes to planning an inheritance or providing financial gifts to a grown child. Many parents are now very wary about giving financial aid when planning a will due to the rising divorce rates in the UK. Divorce can see an ex husband or wife walking off with money or assets that were bequeathed from parent to offspring. This has led many parents to requesting that a prenuptial agreement should be considered if financial lending or a large inheritance is at stake. Research undertaken by a UK financial planning firm showed that 27% of adults were less than confident that their children's marriages would be long term.
Setting out a Lending Contract with Parents
It may sound like unnecessary red tape but setting up a lending contract between parents and children does have benefits. A lending agreement will ensure that both parties are aware of repayment dates and the actual terms of the loan. The lending contract, which should be in writing, can include:
How much money is to be lent
If interest is to be applied to cover the parent's interest fees if they have borrowed from a third party
The length of the repayment of the loan
The dates on which the repayments should commence and the instalment dates
Who is specifically responsible for repayments, for example joint responsibility for married children
The bank of mum and dad can be an excellent low cost borrowing option. But borrowed money has been the cause of many family arguments when repayments have become an issue. A lending agreement may not solve the issue of repayment problems but this will be something tangible to refer to if this problem does arise.
You might also like...