How to Use a Loan Broker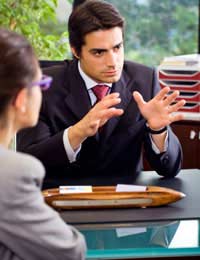 Knowing how to use a loan broker can save a lot of time and they should be able to recommend loans that will be right for your budget. If you want someone else to do the leg work when it comes to researching loans then a loan broker may be the right choice.
What is a Loan Broker?
Loan brokers are financial advisors that should be approved and regulated by the Financial Services Authority (FSA). They can give advice and recommendations on a wide variety of loans, mortgages, and other financial services. They can be used for either personal or commercial purposes and they may charge a fee for their services.
No Fee Loan Brokers
Some loan brokers do not actually charge a fee to clients for their services. They work by taking a fee from the lenders they recommend, thus giving lenders a larger advertising arena. This will not change the interest rates or fees to the actual loan you choose, and no fee loan brokers are a money saving option. Remember, no fee loan brokers may have a select number of loan options available but it is the borrower's choice whether or not to use these recommendations.
Where to Find Loan Brokers
A simple way to find a loan broker will be an internet search. There are many online loan brokers, but choosing the right one is essential in order to protect you money. You can also find details of loan brokers and the services they offer in the business pages of the telephone directory. High street loan brokers are also not uncommon, and may be a better choice if you prefer speaking to someone face to face.
How to Choose a Loan Broker
Recommendations are the best way to find a reputable loan broker. If you know of anyone who has used, and is happy with a loan broker then ask for their name and number. Internet forums on financial websites will also be good in sorting out the best loan brokers. As with any business there are good and bad loan brokers, and many people will rate loan brokers on the internet.
Loan Brokers to Avoid
Many borrowers will use loan brokers if they have bad credit ratings in order to find available loans. Brokers that charge to recommend bad credit lenders should be avoided. Borrowers can easily find bad credit lenders for themselves if required, without paying a fee to a broker.
Similarly, brokers that use unsolicited mail shots to borrower's homes should be avoided. They will target people with bad credit references and try to tempt them with promises of loan recommendations for a fee. They will then simply supply a few bad credit lenders that could have been easily found on the internet. Borrowers that have paid the fee will find that refunds will be very hard to come by from these loan brokers.
How to Use a Loan Broker
Once you have chosen your loan broker you will then need to give a full account of your financial details. This will include salary, present debts, mortgage details, and also some personal details. They will then go through the list of loan options available to you after assessing all of your information. Your loan options may be limited or widened depending on factors such as credit history, amount of loan required, ability to afford repayments, and whether the loan is to be secured or unsecured.
Knowing how to use a loan broker can provide a more competitive range of lending options for the borrower. However, the borrower should also conduct their own research when trying to find the best loan rates available to them.
You might also like...