Best Loan to Cover Training Programme Abroad?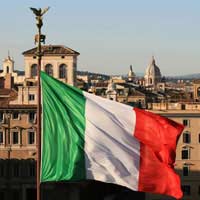 Q.
My 23 year old daughter has just been offered a 6 month Marketing & Public Relations training program with a major international company. The job is non paid during this period - which seems unfair as she has no means to support herself having just graduated, the job is located in Italy.
She holds a University degree as a SWORN Translator/ Interpreter and speaks 5 languages, including Italian. What would be the best way for her to borrow £7500 in the U.K. repayable over say a 1 or 2 year period?
(C.J, 29 April 2009)

A.
As your daughter is taking a training program position, a career development loan may be the best option. A career development loan (CDL) is specifically designed for people who are looking to gain training and qualifications that will help enhance their present jobs or moving onto a completely new career. One of the plus points of a career development loan is that the loan holder does not have to start repayments until one month after the training is finished.
Career Development Loans Providers
Career development loans can range from between £300 and £8000. The Learning Skills Council will pay the interest on the loan during the training period and one month after the course finishes. These loans are offered through three major banks; Barclays, The Royal Bank of Scotland and The Co-operative Bank. Career development loans are similar to normal bank loans and there will be an agreed repayment schedule and fixed interest rate. However, these loans do come with eligibility requirements that must be met before the loan will be provided.
CDL Eligibility Requirements
If an employer receives a grant for an employee's training or if your daughter is an employee of a learning provider who is not registered with the CDL then she would not be eligible for a CDL. One of the eligibility requirements that your daughter does match is that the employment position is within an EU country, specifically Italy. Other eligibility requirements that your daughter seems to fulfil include not being able to pay for the training course herself and that she is not entitled to any other form of financial aid.
Certificates and Employment Experience
One piece of information that will need to be checked before applying will be intended training course. Career development loans are only available for CDL registered courses. This does not mean that you will need to obtain a certificate at the end of the course as work knowledge is considered just as important as qualifications. Those who are considering applying for a CDL should apply well in advance in order for the application to be assessed and decided upon by the banks.
More information on a career development loan can be obtained from the Barclays, The Co-operative Bank and The Royal Bank of Scotland, and also from The Department For Education and Skills.
You might also like...